In the world of weddings, trends constantly come and go. What the bride wears, what they serve to guests, and the experience they create for guests are all constantly evolving and changing from year to year. A bride scheduled to wed in the upcoming year will drive herself crazy skimming through all the weddings and fashion magazines, Pinterest boards, and Instagram feeds.Luckily, we know a thing or two about weddings and have scoured the ends of the Internet to come up with the most anticipated trends for the 2016 wedding season (hint: basically everything about Solange's wedding was perfectly on trend). We will walk you through bridal dresses, bridesmaids' dresses, themes, reception ideas, and colors that we think will be big next year.
For the Bride
Obviously, the bride wants her dress to make a statement, and, boy, is 2016 all about the statement bride! There is no shortage of individuality for the upcoming wedding season's head-turning pieces. For those daring ladies who want to try something other than the norm, you will love the selection of trending bridal styles we predict will be huge next year.
Pantsuit
This one is not for the faint of heart. For those brides who want to walk down the aisle with added swagger, a chic white tuxedo suit may be perfect for you. We just cannot get enough of this trend right now.
Perfect for those girls who never dreamed of the big Cinderella ball gown or who want to make a statement. From white, to metallic, to strapless and lace, there are so many more ways to rock a pantsuit than you previously thought!
To turn heads, make sure the suit is perfectly tailored to your body. Add a statement piece for a wow factor, such as bold red lipstick, a veil, gold statement jewelry, or even a cape. If you believe you can pull this look off, you are guaranteed to be the bride of the season!
Watercolor prints
This year we saw a refreshing take on the traditional ivory gown with soft pastels in blues, pinks, yellow, and blush tones make their way down wedding aisles. With the upcoming year, there—of course—comes a new twist. While soft colors are still a strong statement for spring '16 brides, watercolor prints offer another elegant take for those brides-to-be who want to wear something other than white.
The key to pulling off the look is making sure your bouquet, makeup and hair don't clash or take away from the dress itself. Also, for watercolor prints, you will want to go for a flowing skirt length. Something too tight or big will make the print seem like overkill.
LWD
What's better than a little black dress? A little white one, of course! An LWD is perfect for a smaller ceremony, city hall wedding, an option for a separate wedding rehearsal dress, or for your debut down the aisle. Along with their versatility, you can add your own personal style to a little white dress.
We saw lace, feathers, tulip skirts, empire waists, low necklines, sweetheart necklines,tight and loose-fitting short dresses walk down the aisle on the spring wedding runways, making the LWD the perfect option for a spring 2016 wedding.
Feathers
Another way to make a statement for next year's bride-feathers! You can go as big or little as you please with these fluttery garments. Designers have included full feather ball-gown skirts, subtle feather accents, and even feather skirts to be paired with a crop top (a major wedding trend from this year.) Ranging from ivory, cream, and Vera Wang's design in black, feather dresses can easily serve as multipurpose dresses for those who would like to wear the garment again.
Show Off the Back
If you don't want a plunging neckline, maybe an exposed back is more your style. Low backs and illusion backs will carry on into the year 2016. Brides can show off those toned backs with illusion paneling and lace, or jeweled or beaded tiny straps, or opt to go completely backless.
Balance out the look with long sleeves and/or lace. To remain tasteful, keep the front simple; the point of this style of dress is to draw attention to your backside. A busy front or too low of a neckline will distract from intricate lace and other small touches that often surround a low back design.
Exaggerated necklines
Take the plunge and consider an adventurously low neckline for a jaw dropping efect. For an elegant touch, designers have added a high neckline with the low, by utilizing mock turtlenecks, keyhole cutouts, and lace over layers that make the statement-making neckline work.
Bridesmaids
It's probably safe to assume that all your closest girlfriends not only have different
personalities, but differing body shapes. One friend might have fair skin and auburn hair,while the other might have an olive skin tone and chestnut hair. Perhaps you have a sister-in-law who is tall,and a cousin who is short.
We bet you love all the differences,as that is what makes them beautiful and unique. so, when you round up the girls to go dress shopping, don't be alarmed if no one can agree upon a dress. Each woman will have as strong part she wants to accentuate and a part of her body she would rather not.
So, why would tradition tell us to dress these girls the same? It just doesn't make sense, and it is frankly frustrating for your bridal party. To minimize catfights and showcase their individuality,today's brides are finding ways to make every bridesmaid happy.
Luckily,modern brides have allowed for each bridesmaid to choose her own flattering dress,and the confidence really shows!
If you are a fan of tradition, that doesn't mean you cannot incorporate a unique spin on the bridesmaids' dresses. Choose the color or pattern for the dress, but then allow each friend choose the style that she likes best. This way, each girl feels good and likes the dress she has to wear, while you keep the uniformity you want.
If you want to do something a little edgier, have your maids pick dresses that are not the If you want to do something a little edgier, have your maids pick dresses that are not the example, you probably wouldn't want one girl to wear burgundy and another to wear pale blue, or one with a short dress and another in a long one. Many designers make collections with this in mind, and create a collection with the same feel and color family but unique looks for each woman.
When it comes to choosing bridesmaids dresses, trust your instincts. If you think a certain style will look good, then suggest that! If you want your girls to all match or look nothing alike, then feel free to make the dress code! However, you should keep in mind colors or styles that will look good on everyone – all skin tones and body types.
Colors
While a lot of ceremonies use colors that reflect the mood or season, this upcoming year we see a lot of metallics, and we think it is going to be a huge factor in popular color schemes. On everything from stationery to cakes, to jewelry and the interior of the venue, metallic hues give an air of glamour to your big day. Rose gold, silver, and copper will all make great accent colors for indoor and outside venues alike, for centerpieces and for décor.
You can also incorporate metallic pieces into your jewelry, shoes, dresses, makeup, and bouquets. For the winter season, adding silver to your color palette will beautifully complement the other colors. Likewise, a rose gold will serve as a beautiful tone for a summer or fall wedding.
Flowers
You will probably put a lot of thought into your flowers,as they are a huge part of the wedding. A tradition that has been around for centuries, even the most nontraditional bride has some flowers in her ceremony. for the upcoming year, bring the wild inside with your floral arrangements.
Branches, leaves, and greenery can be incorporated into bouquets, centerpieces, and the archway or aisle. Especially for fall and winter weddings, placing greenery like ivy, eucalyptus, and baby's breath (which was once something brides stayed away from) will serve for a beautiful and unique option, as opposed to the normal bouquet of flowers.
Food
The reception is not complete without food, and, boy, does the new year bring along new and fun ways for couples to experiment when it comes to feeding their guests. Here are some of the biggest trends we've seen spring up in weddings all over that we think will last well into next year.
Less formal dining
Instead of individual appetizers and meals, couples have been opting for a less formal approach. For those who still like the idea of a sit down meal, try feeding your reception with family style dining or shared plates. This brings a more relaxed and personal feel to the meal and allows the guests to have more interaction. If you have a larger guest list, consider having a self-serve buffet style meal for less hassle.
Food trucks/street food
This has been a huge trend that is only going to get bigger. Think in terms of burgers, fish and chips,street food, or fusions like korean BBQ trucks. Your guests will undoubtedly love the unexpected food, and it makes a great way to enjoy an outdoor reception.
Plus, all guests have to do is line up, and then take their seats. There is little to no stress over being served or over seating arrangements. You can keep this theme going with over being served or over seating arrangements. You can keep this theme going with
Special menus
Special menus include food that was locally sourced or organic, or a totally glu ten-free/vegetarian or paleo menu. This trend has been gaining in popularity, either because of the couple's own dietary needs, or in consideration of the guests, or in an attempt to do good for the environment. Either way, there are plenty of chefs and catering companies who can create delicious, fresh, and healthy meals to wedding guests.
Snacks or appetizers
This is a current trend that will stay for the long run. Set up different food stations
around your venu and serve bite size portions of different types of food. This way, guests will be able to snack throughout the night and try a wide variety of different food choices. You can use the same method for all courses, drinks, and dessert. For dessert, serve a candy or ice cream bar that allows guests to create their own conFor dessert, serve a candy or ice cream bar that allows guests to create their own concoctions and select toppings. As for drinks, set up a bar that allows the guest to make their favorite cocktail.
The Cake
Gone are the days of towering cakes With cheesy figurine toppers. The cake is just as important an aspect of the planning as the food, and couples continuously strive to nail something that is equally delicious and visually appealing. Here are some of our predictions for the 2016 wedding year: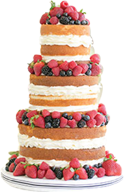 Naked cakes
Naked cakes are a big phenomenon right now in the wedding industry. But, what is a naked cake, you ask? It is a cake without the fondant, frosting, or icing. These au naturale cakes are a popular choice by recent brides and are set to be a huge trend in the following year. Plus, with touches of fresh berries and greenery, they add a nice touch to any rustic-themed wedding.
Metallic touches
Metallic touches aren't just great for jewelry and stationery, but look amazing when added to cakes. Pale and rose pink cakes really pop with metallic gold icing. For art deco and old-Hollywood themes, little touches of metallic frosting on your cake will be a perfect complement.
A visual feast
Something that has been big this past year, and we predict will be even bigger in the next year, are a visual feast of treats. Instead of an actual cake, couples will have towers of macarons, made with egg white, or, more recently, aquafaba. for example, in striking colors or in an ombre effect.
A dessert table
Many new brides have recently opted for a whole dessert table, meaning more than one cake. Instead of a towering, layered cakes, they will choose several small single layer cakes. Each cake will usually complement the other in color and icing designs for a visually appealing touch. The table will often include other dessert treats, as a modern bride wants plenty of choices for her guests.
Floral touches
Touches of delicate flowers or bright floral pieces and designs aren't going anywhere for the 2016 wedding year. Wedding cakes have included flowers or floral designs for a long time and, even though the look and method changes, it still serves as a favorite among brides.